ATTITUDE THAT CARES
Journeys ATC was founded on twelve core values, but there is one that we keep very close to our hearts: Journeys Is a Family With an Attitude That Cares. So much so that we designed a program to support it! The best way to describe Journeys ATC is like a big fat hug from the Journeys family. We embrace everyone, including those deemed "different" because of what they look like, who they love, or how they express themselves. At Journeys, we know that we are stronger together, united by love and a common understanding. We believe that if we stand together against violence and injustice, we can use the power of kindness and compassion to create more love, more opportunities, and of course, more warm and fuzzies.
Here are just a few ways that Journeys ATC rallies around employees and the surrounding communities:
JOURNEYS X CAN'D AID
People Power: Journeys Sales Meeting 2022
Journeys is a proud partner of Can'd Aid, an organization that empowers volunteers to build thriving communities in their backyards. Can'd Aid provides opportunities for underserved youth and emphasizes art, music, and outdoor recreation. The team at Can'd Aid believes expanding these creative outlets exposes students to more hobbies and skillsets and cultivates the next generation of creators. So naturally, we're down to help with that!
At the annual Journeys Sales Meeting, a time for employees to reflect and celebrate their success, our team rolled up their sleeves for the biggest Can'd Aid activation yet. Our store managers and field leadership got to work building bikes, building bikes, and building more bikes for Nashville kiddos. Sweaty and still smiling at the end of the three-day event, we had 1,200 Can'd Aid bikes prepped for students at local Title I schools.
Nothing beats the first ride on a new bike, and we're incredibly proud to continue our partnership with Can'd Aid and all of the good they're doing in the world. *insert bike bell sound here*
JOURNEYS X THE TREVOR PROJECT
JOURNEYS x THE TREVOR PROJECT
At Journeys, we foster a "come-as-you-are" atmosphere which means embracing diversity with open arms. One of our most important missions is to provide a safe and welcoming environment for members of the LGBTQ community.
When it comes to improving mental health support, safety, and advocacy in this community, we don't hesitate to turn to our friends and experts at The Trevor Project. As the largest crisis intervention and suicide prevention organization for LGBTQ youth, The Trevor Project provides free counseling and resources to young adults. The organization also specializes in research, education, and advocacy surrounding LGBTQ topics.
At Journeys, we believe that everyone deserves to be loved, respected, and, most importantly, safe, which is why we will continue to be loud, proud supporters of The Trevor Project and its efforts! Learn more at TRVR.org.
OUR OWN BACKYARD
YOUTH VILLAGES
The holidays aren't all about gifts, but packages with pretty bows are bound to spread a little cheer! That's why Journeys is a proud sponsor of Youth Villages' Holiday Heroes event. This fundraiser supplies gifts to foster children and ensures that no one is denied the magic of waking up to presents under the tree.
BLASTING OFF WITH ROCKETOWN
More than 15 years ago, Journeys launched our relationship with Rocketown, a youth outreach facility based in Nashville, TN. C'mon, a name like Rocketown it's bound to be a total blast - spoiler alert: it is!
Averaging 800+ teen visits per week, the facility features a skate park, recording studio, art room, computer lab, and more. Rocketown also doubles as a venue for live entertainment like concerts and comedy shows. So, fun and fulfilling, this place gives local teens a place to hang with friends and explore new hobbies and skills in a safe, guided environment.
Journeys continuously supports growth opportunities and facility needs at Rocketown, but we're most proud of how often our employees are involved in their free time. You can frequently spot the Journeys team and their families volunteering at events, hosting meals, and sponsoring kids' memberships and equipment at the skate park. Ugh, it warms our Journeys heart just thinking about it.
GETTING DOWN TO BUSINESS
Junior Achievement BizTown is a community like no otherone where 4th-6th graders take charge and learn about personal finance, work ethic, and entrepreneurship along the way. The program begins in the classroom with a series of lessons and culminates in a visit to their interactive town simulation. These young students can learn what it's like to pick their careers, run businesses, earn paychecks, vote, and donate to charity.
More recently, Journeys partnered with Junior Achievement Finance Park to help prep middle and high school students for the real, working world. This program trains students on the importance of budgeting with a real-life job scenario. After training, students join breakout sessions to learn more about personal finance, earning and saving money, and talking with professionals about their journeys and how they found success.
The Journeys and Junior Achievement partnership has been an enormous success and is something we're really proud of. We're also not-so-secretly hoping that all of our BizTown and Finance Park students decide they want to work with us when they grow up!
TAKING PART IN PRIDE
We marchand mural in the name of love! In 2021, Journeys extended our partnership with Nashville Pride to help support and celebrate the LGBTQ community. Our volunteers took part in an interactive mural, participating in the creative process and adding color to the beautiful piece by artist Andee Rufloff. Next, we hit the pavement and marched in the annual Pride Parade through downtown Nashville.
SUPPORTING HIGHER EDUCATION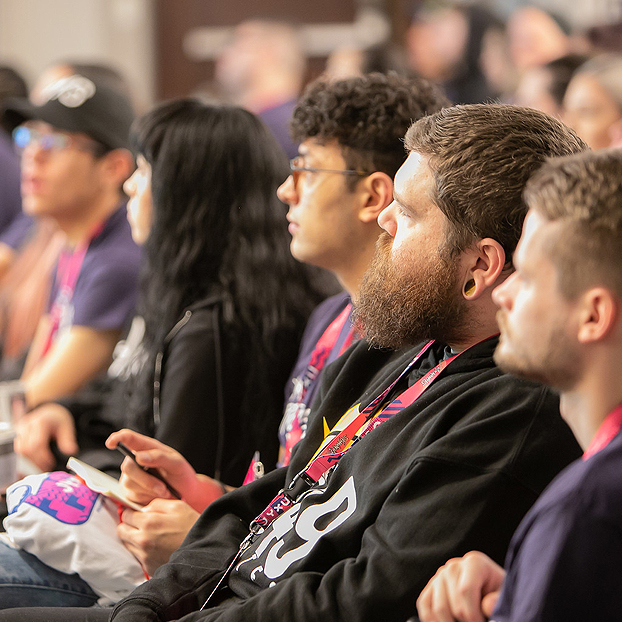 JOURNEYS ATTITUDE THAT CARES SCHOLARSHIP
Like Journeys employees invest in us every day, we try to return the favor in big ways. One of our company's core values is to Promote From Within, so we do everything we can to provide growth opportunities and make even more promotions happen.
Over the last year, the ATC scholarship program alleviated tuition costs for more than 20 student employees with almost $22,000 in scholarship money. But wait it gets even better!
Last year we also officially launched our Student Loan Repayment Program. Now, we can help our employees cover the costs of the education that molded, inspired, and, most importantly, helped them get here today!
Click HERE to learn more.